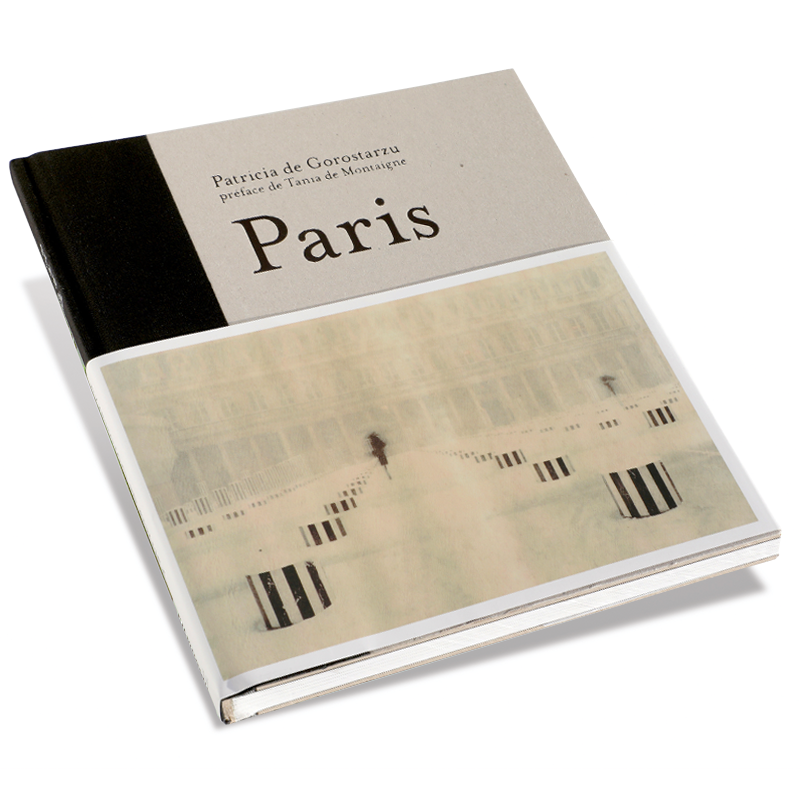  
Paris
Paris

Author: Patricia de Gorostarzu

Preface: Tania de Montaigne
Albin Michel
Format L 22,5 cm x H 24cm
160 pages - 120 photos
Public price 29 €
Reduced price 20 €
Publication : 2014
Paris by Patricia de Gorostarzu in 120 Polaroids

After exploring so many places and traveling the world to satisfy her thirst for discovery, Patricia de Gorostarzu decided to get lost in her own city to photograph it. She chose to have it done in the heart of winter, because it is without the foliage of its trees that Paris shows itself without shame and in all its splendor, which is perfectly illuminated day and night. Like a city she didn't know, she rediscovered her hometown. During her walks, she photographed Paris with her Polaroid. This Parisian "road trip" made her feel even more deeply how lucky she was to walk in one of the most beautiful cities in the world.


Tania de Montaigne preface


Paris, here we come! That's what people say in novels, poems, films and songs. Young Rastignacs, coming from near or far, by RER or low-cost airline, have always dreamt of this city, firmly believing that anything is possible. We have climbed the steps, one by one, that led us to this conviction—or at least we've tried. Here we come! We have skinned our knees and scraped our hands; we have been enchanted; we have banged our heads against visible and invisible walls, walls of stone and glass, of indifference and oblivion. We have eaten indigestible crepes waiting for the first metro to run; we have drunk interminable cups of coffee to stretch out the few coins in our pockets; we have been girls, women; we have been in love and kissed forgettable boys wearing Peruvian hats. Here we come! Seated on steps, benches, in parks, we spoke of larger-than-life projects which, for still exist for some of us, and for others are still pending. We come across them sometimes, consigned long ago to a drawer; we may then pull them out or bury them once again. The game goes on. Here we come! We have dropped coins into the pinball machines again, rolled up our sleeves, clenched our fists, opened our arms, stretched out our hands, thrown stones in the pond, words into the arena, we have laughed and cried, and we have been scarred sometimes, disappointed as well. And then we pulled away, turned our backs, our sights, chosen another place, another life, other paths. But it's always the same whenever we come back; we say that's it's beautiful, that it's worth it, that nothing is as great as it is here, and we sigh and we're right back where we started, ready to do it all over again. It might be hard, but it will certainly by fun, and it obviously won't be what we expect. Paris, here we come! It was the past and will be the future.