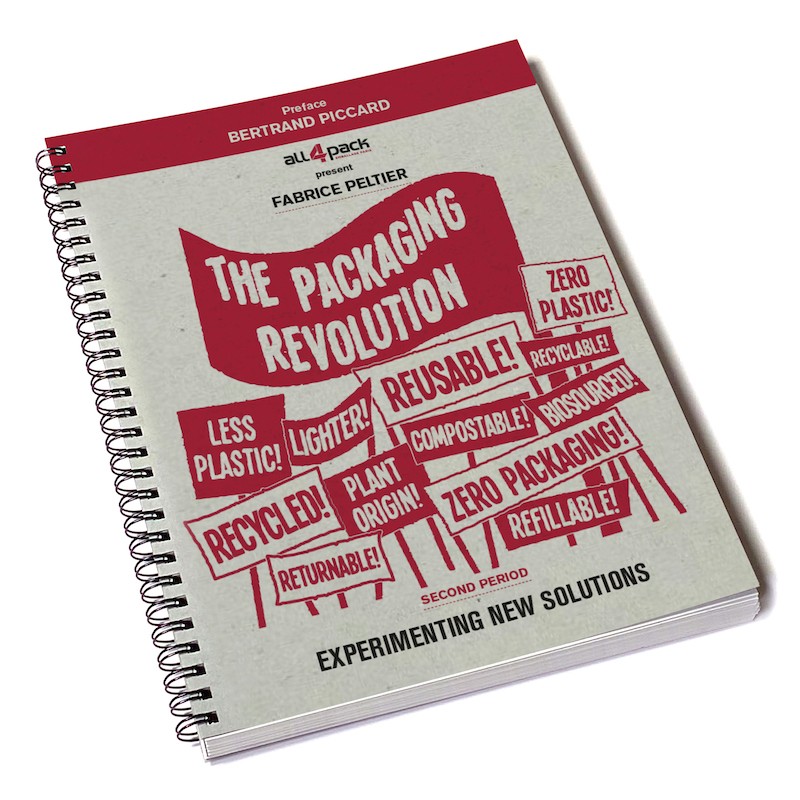  
The packaging Revolution - Second period
The packaging Revolution 
Second period : experimenting new solutions
Author : Fabrice Peltier
Preface : Bertrand Piccard
Format : L 19 cm X H 25 cm
190 pages - More than 500 photos
Cardboard cover, spiral binding
Public price 69 €
Publication november 2022
Less plastic!

Lighter!

Recycled!

Reusable!

Plant origin!

Biosourced!

Recyclable!

Zero plastic!

Compostable!

Refillable!

Returnable!

Reusable!

Zero packaging!

During the first years of the packaging revolution, some of these arguments and many others, well-founded or not, are prominently displayed on the front of many packages. The aim is to highlight one or more of the packaging's qualities with regard to environmental protection in order to reassure and convince an increasingly sensitive consumer. Such a diversity of claims related to packaging, both qualitative and quantitative, demonstrates that not only is the packaging sector in full mutation, but above all that it is still searching for solutions that do not necessarily all go in the same direction. Thus, the Packaging Revolution will not lead to the ideal packaging because it will never exist. However, there will be packaging solutions for which, in most cases, only a few environmental impact indicators will be improved. Unfortunately, sometimes at the expense of other indicators. Hence the importance of being careful about impact transfers.

Never before have product marketers in almost every sector attached such importance to packaging. They wonder about its future, wish to improve it, consider rethinking it completely, or even doing without it altogether...

There are several reasons why manufacturers are questioning packaging in depth:

-       The law requiring them to respect the "3Rs" to reduce, reuse, recycle, so that they comply with the eponymous decree and to anticipate the new texts to come.

-       Growing pressure from consumers who express strong and sometimes contradictory expectations about the packaged products they consume and the waste generated.

-       Multiplication of initiatives, associations, startups developing bulk purchasing, reuse and zero waste consumption.

-       The willingness of some distributors who now make this subject, especially plastic reduction, an argument of their communication in favor of the environment.

-       Respect for commitments they have set themselves in their social and environmental responsibility (SER) policy, which very often contains a chapter dedicated to reducing their packaging impact.

-       And for some of them, the most visionary, an awareness that they may have reached the end of a model that it is time to question...

The Packaging Revolution is well underway, with new solutions coming to market every day. The COVID-19 health crisis, the soaring costs of all raw materials, shortages, war in Ukraine have not slowed down the pace of new packaging launches. It is clear that most of these are in line with the major trends I presented in 2020 in the book "The Packaging Revolution, First Period, The Emergence of New Solutions". So much so that what we used to call an emerging trend has become in many cases a reality in the process of experimentation.

So we have entered a new phase of the Packaging Revolution, which I call the "second period", that of experimenting with new solutions. Shocking slogans and "greener than green" communication are still widely used. Environmental claims on packaging have become unavoidable. Each new solution offered is claimed to be better than the other, which does not make it easier for consumers to understand, nor does it make it easier for a large number of marketers to understand... Observers are raging on social networks. Some find that it does not go far enough, that the problem remains unsolved, others claim that it is worse or that it was better before... However, by taking a step back and with full objectivity, it is now easier to control the veracity of the remarks by measuring in a factual way if there is progress or not.

The objective of this new book is to analyze 101 packaging products that have been developed and placed on the market in recent years, both to comply with regulations and to move towards ecological transition, towards more "fair packaging". It also gives the floor to the actors of the Revolution, the most committed industrialists who do not hesitate to move the lines, to take risks without claiming to hold the miracle solution to reduce their packaging environmental impact.
The packaging Revolution GB2